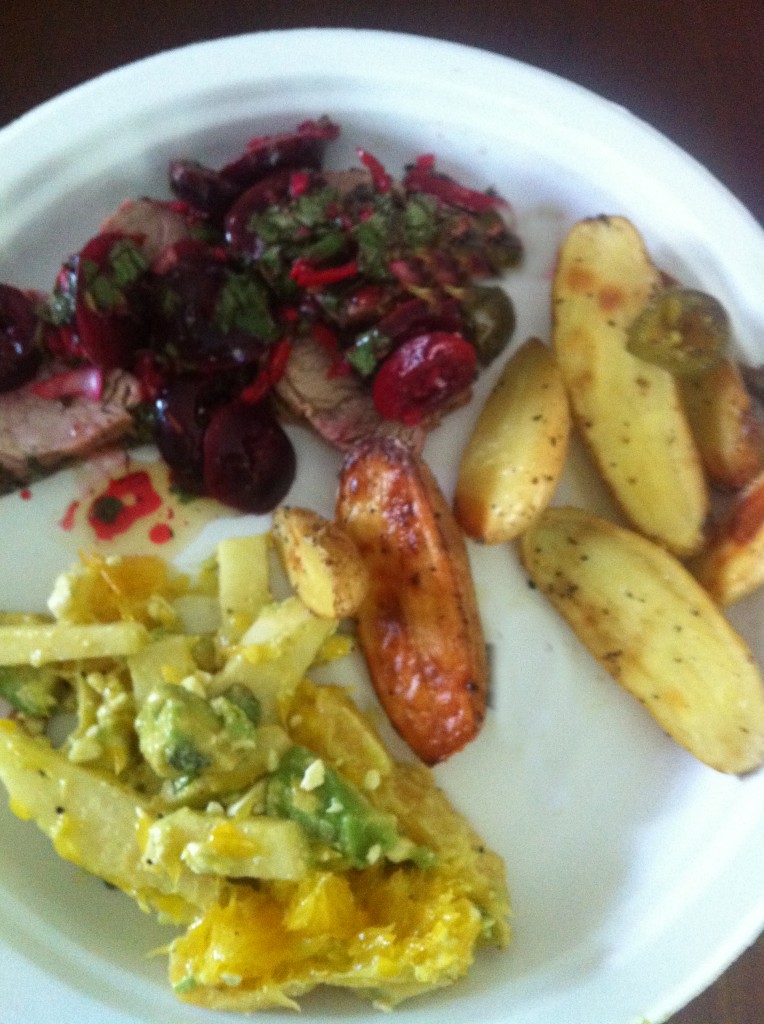 Although I am not winning any prizes for presentation or photo quality (taken with my iPhone) Frederick should DEFINITELY win a prize for this fabulous lunch served during photoshoot. Grilled pork loin with a cherry salsa, jicama avocado salad and roasted potatoes with jalapenos. The star of this meal was most certainly the jicama and avocado salad. Interesting, fresh and easy!!
Ingredients
1 julienned jicama
2 avocados cubed
2 oranges, sliced
Half cup Feta cheese
2 tablespoons Olive Oil
1/4 cup chopped mint
1 tablespoon apple cider vinegar
Kosher salt and freshly ground black pepper
Preparation
Prepare vinaigrette by mixing olive oil, apple cider vinegar and salt and pepper. set aside

Meanwhile, combine remaining 1 julienned jicama, 2 avocados cubed, 2 oranges, sliced, Half cup Feta cheese, 1/4 cup chopped mint in a bowl

Toss together dressing and salad, serve and Enjoy!!
The Cherry salsa over Pork was pretty fab as well, Frederick used the recipe from
Bon Apetit
:
Ingredients
1 cup coarsely chopped fresh cilantro, divided
1/2 cup minced shallots, divided
6 tablespoons fresh lime juice, divided
1/4 cup vegetable oil
2 pork tenderloins, about 2 1/2 pounds total
1/2 pound fresh cherries, stemmed, pitted, halved
1 fresh Fresno chile, red jalapeño, or Holland chile, thinly sliced crosswise
1 tablespoon extra-virgin olive oil
Kosher salt and freshly ground black pepper
Preparation
Prepare a grill to medium-high heat. Combine 1/2 cup cilantro, 1/4 cup minced shallots, 4 tablespoons lime juice, and vegetable oil in a resealable plastic bag. Add pork; seal bag and turn to coat. Marinate at room temperature for 15 minutes, turning occasionally.

Meanwhile, combine remaining 1/2 cup cilantro, 1/4 cup shallots, 2 tablespoons lime juice, cherries, chile, and olive oil in a medium bowl. Season salsa lightly with salt and pepper and set aside to let flavors to meld

Remove tenderloins from marinade and season generously with salt and pepper.

Grill tenderloins, turning frequently, until a thermometer inserted into meat registers 145°, about 15 minutes. Let erst 10 minutes. Cut into thin slices and serve with salsa.