In honor of the upcoming holiday Frederick prepared an extra summery dessert! Prepare this and your guests will swoon!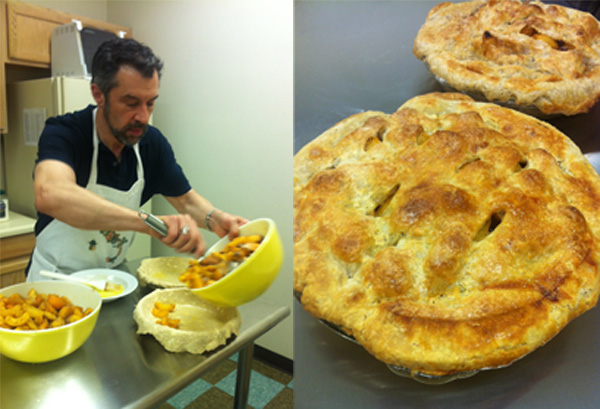 Apricot Pie
4 cups sliced fresh apricots
¾ cup sugar, ½ cup light brown sugar
1/3 cup all-purpose flour
1 teaspoon cinnamon
1 tablespoon lemon juice
1 Pastry for double-crust pie (9 inches)
Milk
Additional sugar
Directions
In a bowl, toss apricots, sugar, flour and cinnamon. Sprinkle with lemon juice; mix well. Line a 9-in. pie plate with bottom crust; add filling. Roll out remaining pastry to make a lattice crust. Place over filling; seal and flute edges. Brush with milk and sprinkle with sugar. Cover edges of pastry loosely with foil. Bake at 375 degrees F for 45-55 minutes or until golden brown.
On the pastry for double crust pie:  I used Vodka from the freezer instead of ice water.  The alcohol doesn't bind with the gluten in the dough and makes for a flakier crust