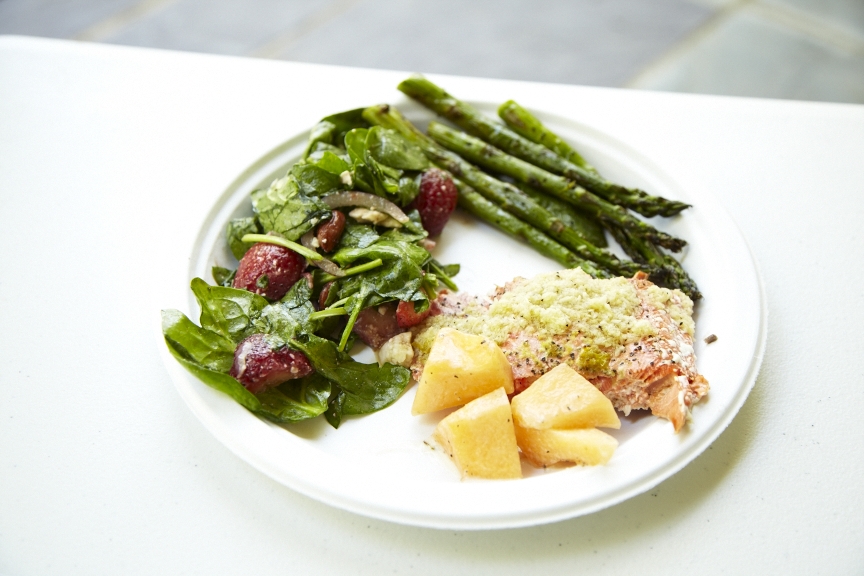 Today we finished up with our 2012 photoshoot!! Get ready for some fabulous NEW stuff debuting in High Point and even a few things at the NYDC What's New What's Next event. We were lucky enough to have Frederick cook for us almost the entire shoot... man, we are spoiled! He made a particularly delicious and unusual dish on wednesday, that would be a great dish to serve right now before it turns cold. Salmon and Cantaloupe, accompanied by grilled asparagus and a spinach strawberry salad. Photos taken by the talented Cyndi Long. Thanks Cyndi!!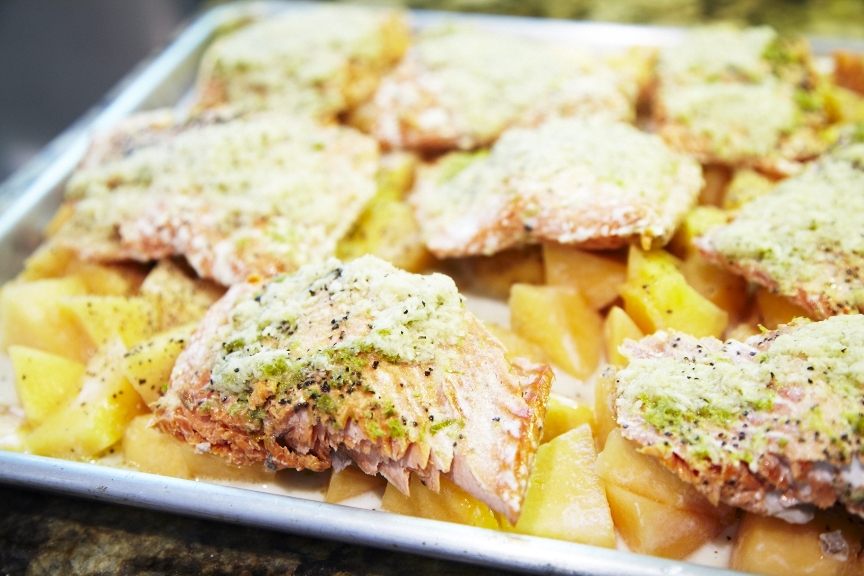 Salmon with cantaloupe:
Vinaigrette
2 tablespoons freshly grated horseradish
1 1/2 tablespoons fresh lime juice
1 tablespoon Asian fish sauce
1/2 tablespoon light brown sugar
1 tablespoon extra-virgin olive oil
Salt and freshly ground pepper
Fried Shallots
Vegetable oil, for frying
2 large shallots, thinly sliced crosswise and separated into rings
Cornstarch, for dusting
Salt
Salmon and Garnishes
Four 6-ounce, skin-on salmon fillets
Salt and freshly ground pepper
1 tablespoon vegetable oil
1/3 small cantaloupe, scooped into small balls or cut into 1/4-inch dice (about 1 cup)
1/2 cup buttermilk
1 teaspoon finely grated lime zest
Freshly grated horseradish
1/4 cup celery leaves
MAKE THE VINAIGRETTE: In a small bowl, combine the horseradish, lime juice, fish sauce, brown sugar and olive oil and season with salt and pepper.
MAKE THE FRIED SHALLOTS: In a large skillet, heat 1/4 inch of vegetable oil. Put the shallot rings in a colander and dust heavily with cornstarch, shaking to coat them well. Add the shallots to the hot oil in an even layer and fry over moderate heat until browned and crisp, about 4 minutes. Using a slotted spoon, transfer the fried shallots to paper towels to drain. Season lightly with salt.
PREPARE THE SALMON: Preheat the oven to 400°. Season the salmon with salt and pepper. In a large nonstick skillet, heat the oil until shimmering. Add the salmon skin side down and cook over high heat until the skin is browned and crisp, about 3 minutes. Turn the fillets and transfer the skillet to the oven. Cook for about 3 minutes, or until the salmon is just cooked.
Meanwhile, divide the cantaloupe among 4 shallow bowls. Drizzle with the buttermilk and season lightly with salt. Lay the salmon on the cantaloupe and spoon the vinaigrette on top. Sprinkle with the lime zest and grated horseradish. Scatter the celery leaves and fried shallots over the salmon and serve.
Make Ahead The vinaigrette and fried shallots can be kept at room temperature for up to 4 hours.