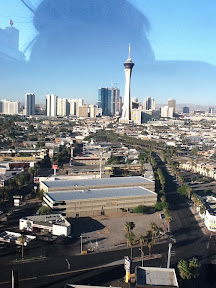 Going on 16 days, a few of us are practically Las Vegas residents at this point. Needless to say, we have had a lot of time to try different restaurants. Here are some of our top picks:
Lotus of Siam
- Thai food, and some if the best in the country we might add!! We found this
E20-598
one a coup,e years ago in the AmericanWay magazine. Definitely worth the trip!! Be sure to order the Thom Kha
Lindo Michoacan
- Mexican food. If it is your birthday they give you a shot of tequila, but the find is why you should visit this off the strip spot
Orchids Garden
- Sunday Dim Sum anyone? We thought so. This place
251-502
is amazing. Our faves were the spinach shrimp dumplings and the dandelion greens.
Triple George
- Grill and Steak house. This is fun and easy if you are headed downtown. Off 3rd street and Not in a casino, you will be pleased with the selection here. After you eat, go check out the Freemont St. Experience. Or for some local haunts, head to
Don't Tell Mama
for some AMAZING singing or
The Griffin
for a Hipster Harry Potter vibe.
The Arts Factory Bar + Bistro
-Tapas, pizza, other eats. We LOVE this place. So much so That we have gone back 3 times. It is on the corner of Charleston and CasinoCenter. The food is sooo delicious, and fresh. Our favorites are: Sea boat scallops, Mac + cheese, Garlic Pollo and the Cuban Panini. Their tropical ice tea is a custom blend for them and super refreshing. The Arts Factory also has some pretty great galleries and events going in all the time, so be sure to check the event calendar out as well.