Malibu Occasional Chair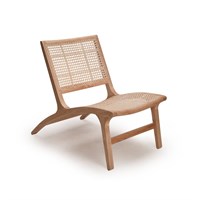 Dimensions
Overall 22"W x 29.75"H x 34.75"D (15.43 lbs)
Overall 55.88cm W x 75.57cm H x 88.27cm D (7 kg)
Seat 15.5"H
Seat 39.37cm H
Seat depth 19"D
Seat depth 48.26cm D
Seta Back 21.5"H
Seta Back 54.61cm H
Front 14"H
Front 35.56cm H
Back 11.25"H
Back 28.58cm H
Distance between front legs 18.75"L
Distance between front legs 47.63cm L
Distance between front & back legs 32"L
Distance between front & back legs 81.28cm L

Weight Limit - 250 lbs
White Ash Wood & Solihiya
Natural Finish
Dust with dry cloth, finish with wood polish.


The Malibu Occasional Chair perfectly combines the striking mid-century modern profile of fluid lines and precise joinery with the Philippines's intricately hand-crafted Solihiya weaving. Its generous sitting space slightly angles back for an easy-going disposition. Relaxed and intuitively ergonomic, it can blend with modern or traditional interiors.
View Details
Benefits of Registering
Order Online
View Inventory
Create Projects
Download Tear Sheets and Product Images
Receive our latest updates
Registering for Global Views also registers for Studio A | Home