Cascade Chair-Muslin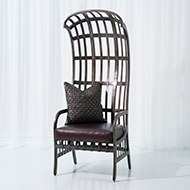 Dimensions
Overall 25.5"W x 65"H x 28"D (60 lbs)
Overall 64.77cm W x 165.1cm H x 71.12cm D (27.22 kg)
Arm Height: 25.5"H
Arm Height: 64.77cm H
Seat Height: 19.5"H
Seat Height: 49.53cm H
Seat Depth: 23.5"D
Seat Depth: 59.69cm D

Weight Limit - 330 lbs
Antique Gunmetal, Powder Coated
Dust with dry cloth
Not intended for permanent outdoor use
This item is covered in natural muslin. It is a temporary covering intended to hold the upholstery components in place until it can be r

Cascade Chair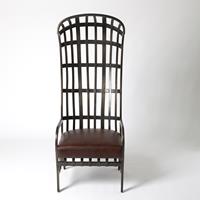 Dimensions
Overall 25.5"W x 65"H x 28"D (60 lbs)
Overall 64.77cm W x 165.1cm H x 71.12cm D (27.22 kg)
Arm Height: 25.5"H
Arm Height: 64.77cm H
Seat Height: 19.5"H
Seat Height: 49.53cm H
Seat Depth: 23.5"D
Seat Depth: 59.69cm D

Plywood
Antique Gunmetal, Powder Coated
Dark Brown Saddle Buff Leather
PU foam
Dust with dry cloth
Not intended for permanent outdoor use
Weight Limit - 330 lbs


Cascade Chair w/Grey Hair-on-Hide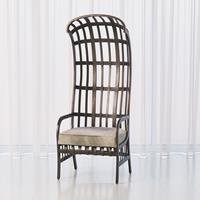 Dimensions
Overall 25.5"W x 65"H x 28"D (64.5 lbs)
Overall 64.77cm W x 165.1cm H x 71.12cm D (29.26 kg)
Arm Height: 25.5"H
Arm Height: 64.77cm H
Seat Height: 19.5"H
Seat Height: 49.53cm H
Seat Depth: 23.5"D
Seat Depth: 59.69cm D

Plywood
Antique Gunmetal, Powder Coated
Grey hair-on-hide leather
PU foam
Dust with dry cloth only. Wipe smoothly in the direction of the hair. Gently brush dirt and dust from teh leather using a very soft brush. Do not use any abrasive cleaners.

The Studio A Cascade Chair juxtaposes decidedly masculine materials with a curvaceous feminine silhouette. Highly skilled Studio A Home artisans worked the iron into its dramatic shape and accented it with a rich leather or luxe hair-on-hide cushion, making the chair a remarkable statement piece. 
View Details
Benefits of Registering
Order Online
View Inventory
Create Projects
Download Tear Sheets and Product Images
Receive our latest updates
Registering for Global Views also registers for Studio A | Home