La Jolla Arm Chair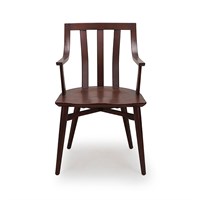 Dimensions
Overall 21.25"W x 34"H x 25.5"D (13 lbs)
Overall 53.98cm W x 86.36cm H x 64.77cm D (5.9 kg)
Arm 26.25"H x 13.5"D
Arm 66.68cm H x 34.29cm D
Seat 18"W x 1.5"H x 18.75"D
Seat 45.72cm W x 3.81cm H x 47.63cm D
Seat Height 18"H
Seat Height 45.72cm H
Distance Between 20"L x 17.5"W
Distance Between 50.8cm L x 44.45cm W
Seat Back 20"H
Seat Back 50.8cm H

Weight Limit - 250 lbs
Mahogany Wood
Dark Mahogany Finish
Dust with dry cloth, finish with wood polish.


Orisa is a modernist revival of a silhouette heavily influenced by the Art Nouveau Movement. Flamboyant ornamentations translated into streamlined lines, but traces of graceful curves on wooden slats that make up the back and armrests are still evident. The wide molded seat is supported by sturdy tapered legs.
View Details
Benefits of Registering
Order Online
View Inventory
Create Projects
Download Tear Sheets and Product Images
Receive our latest updates
Registering for Global Views also registers for Studio A | Home