The Olivier and Gaspard Collection
Olivier Candle Holder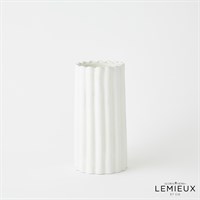 Dimensions
Overall 11.25"H x 5.5"Dia. (5.1 lbs)
Overall 28.58cm H x 13.97cm Dia. (2.31 kg)

Hold one 4" dia. Candle
Powdercoated White Pantone #11-0602
Dust with dry cloth
White Paint - Pantone 11-0602


Gaspard Vase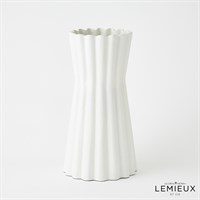 Dimensions
Overall 16.5"H x 8.5"Dia. (9.9 lbs)
Overall 41.91cm H x 21.59cm Dia. (4.49 kg)
Vase Opening 6"Dia.
Vase Opening 15.24cm Dia.

Powdercoated White to match Pantone #11-0602
Dust with dry cloth
Product is Watertight
White Paint - Pantone 11-0602


The Olivier Candle Holder and Gaspard Vase exude a minimalist and contemporary charm, perfect for creating a serene ambiance in any space. Crafted with sleek and clean lines, the collection features slender flute-like designs creating stunning focal points that add sophistication to any décor. The Olivier holds a 4"Dia. pillar candle.
View Details
Benefits of Registering
Order Online
View Inventory
Create Projects
Download Tear Sheets and Product Images
Receive our latest updates
Registering for Global Views also registers for Studio A | Home