Étienne and Antoine Vase Collection-Volcanic White
tienne Vase-Volcanic White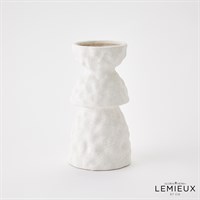 Dimensions
Overall 11.75"H x 6"Dia. (3.4 lbs)
Overall 29.85cm H x 15.24cm Dia. (1.54 kg)
Vase Opening 2.25"Dia.
Vase Opening 5.72cm Dia.

Hand-wash
Product is Watertight


Antoine Vase-Volcanic White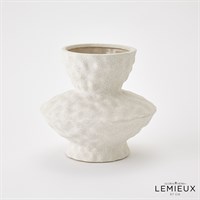 Dimensions
Overall 10.5"H x 11.25"Dia. (6 lbs)
Overall 26.67cm H x 28.58cm Dia. (2.72 kg)
Vase Opening 4"Dia.
Vase Opening 10.16cm Dia.

Hand-wash
Product is Watertight


The Etienne and Antoine Vase captivate with their textured allure, showcasing the beauty of natural imperfections. Crafted with meticulous attention to detail, the vases' organic ceramic forms mimic the gentle curves and lines found in nature, evoking a sense of tranquility and serenity. The soft and matte finish of the plaster-like finish enhances its organic appeal, making the vases unique and stunning centerpiece that effortlessly complements any interior design aesthetic.
View Details
Benefits of Registering
Order Online
View Inventory
Create Projects
Download Tear Sheets and Product Images
Receive our latest updates
Registering for Global Views also registers for Studio A | Home